Aztec Gold™ Post-Milking Teat Dip - 10 Gallon
S120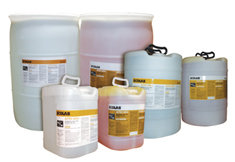 Please contact your Premier Select Sires representative for price and delivery options.
To find your local Area Sales Manager, please see the "Service Areas" tab of this website.
A post-milking teat dip ideal for modern dairy operations where the full protection of a barrier is not needed.
Bright gold color
Lasts four to five hours, even in temperatures up to 95 degrees Farenheit
Thicker viscosity that clings to teats longer, exposing them to the extended killing power
Thicker viscosity allows for minimal drippage and increased exposure time for the emollient to condition skin
Synergizer for ASC chemistry
More effective against Staph. aureus than competitor products
Proven just as effective against Mycoplasma bovis as iodine dips with >4.77 log reduction
™Aztec Gold is a trademark of Ecolab Inc., St. Paul, MN"