EfferCept® Sanitizing Teat Dip and Spray
S240A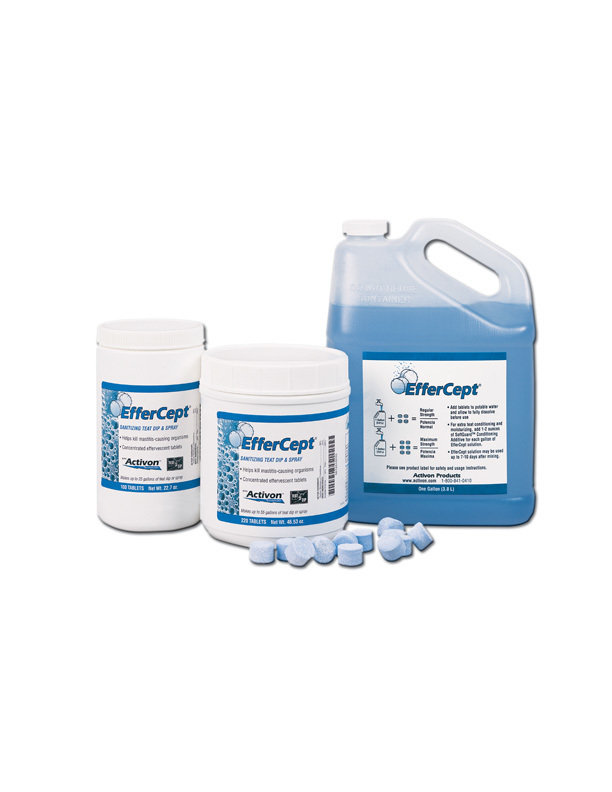 This pre/post teat dip kills bacteria while cleaning and conditions teats. EfferCept pre/post teat dip has been trusted by hundreds of dairy producers for over 20 years.
Product of Activon
Tablet form mixes with water to be used as a spray or wash
Controls a broad spectrum of microorganisms including Escherichia coli, Staphylococcus aureus, Staphylococcus aureus, Streptococcus uberis, Streptococcus agalactiae, Salmonella cholerasuis, Salmonella typhimurium, Pseudomonas species, Mycoplasma species, Mycobacterium tuberculucous, Klebsiella species, Proteus vulgaris, Listeria monocytogenes, Candida species, Aspergillus species and more
Kills microorganisms on contact without the corrosive effects of iodine-based products
Cleans and conditions teats
Foaming or non-foaming (foaming additive sold separately)
®EfferCept is a registered trademark of Activon, Inc., Fort Collins, Colo.
Size
Pack of 50 (0) Pack of 220 (0)