UDDERgold® 5-Star - 10 Gallon
S106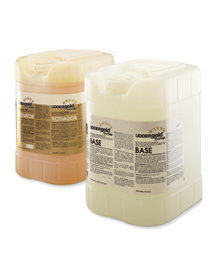 Please contact your Premier Select Sires representative for price and delivery options.
To find your local Area Sales Manager, please see the "Service Areas" tab of this website.



Superior barrier post-dip that offers protection against both contagious and environmental mastitis.
UDDERgold® 5-Star gives you improved efficacy of the barrier film due to a combination of germicidal actives, thus improving environmental mastitis protection
Controls a broad spectrum of bacteria, including Mycoplasma species, viruses and other pathogens
Retains color after mixing, so dairy producers know they are getting the coverage they need
An increased level of glycerin and additional emollient polymers helps moisturize teats for improved skin health
Tough on bacteria, easy on teat skin
®UDDERgold 5-Star is a registered trademark of of Ecolab Inc., St. Paul, MN.